COVER ME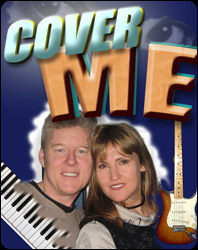 Roxanne plays with her husband, Stephen, in the Duo, CoverME.

The combination of her vocal talent and guitar playing with his accomplished piano and guitar style, as well as Stephen's vocals, leads to an exciting sound which audiences around Sydney and New South Wales have been enjoying now for some time.

CoverME, unlike many bands with a limited repertoire of no more than a couple of hundred songs, has an extensive repertoire of over 500 songs including Jazz, Soul, Motown, Rock & Roll, Dance and Easy Listening musical styles covering music from the 40's through to current songs and artists, this ensures all tastes are catered for.

Roxanne and Stephen offer the entertainment and class that only a live band can deliver.
Check out more about CoverME at their website www.coverme.com.au. On it you'll find an extensive repertoire comprising popular songs from jazz, country, rock and pop and swing genres.